An Indian Art-Rising
A growing gallery of projects with indigenous people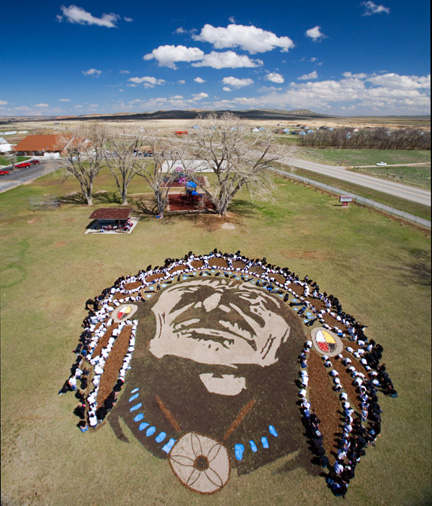 The Resurrection of Chief Washawkie
450 students and teachers at Ft. Washawkie School on the Wind River
Indian Reservation in Wyoming, depict their famous Shoshone Chief Washakie.
April, 2009
+ + + +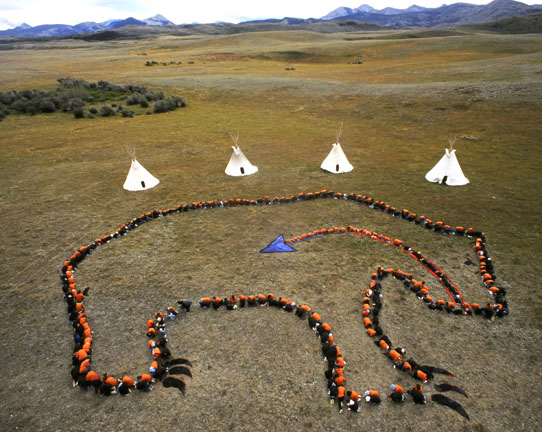 The Sky Grizzly. Badger Two Medicine area, Blackfeet Reservation, Montana, 2004. 400 Blackfeet from age 3 to 80 gather in the shape of a grizzly bear to declare the sacrednessof their land and send a message to the government that they do not want this land to be harmed in any manner.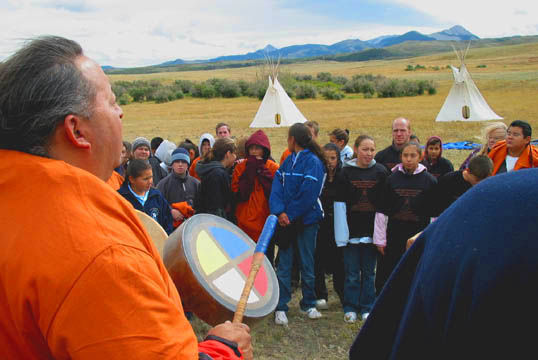 "This was a magical way to bring kids, adults and elders together to celebrate their culture. The image we have created communicates so powerfully, the beauty and the sacredness of this land, entrusted by the Creator to the Blackfeet people."
Christine Mulvey, Development Director, De La Salle Blackfeet School.
+ + + +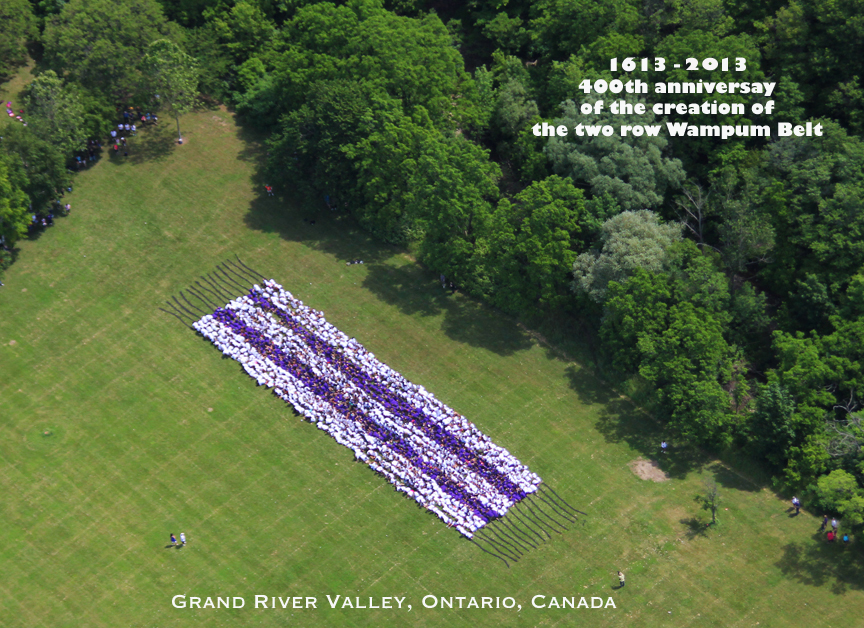 2000 Pen Pals meet for the first time in the creation of this Wampum Belt.
+ + + +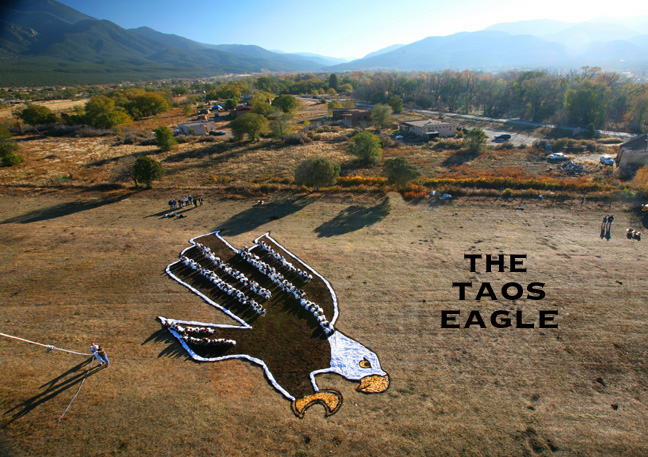 NeNext to the oldest continually occupied dwelling in North America, the Taos Pueblo,a sky art bald eagle was created by the Taos Day School using composted soil, white sheets cottonwood leaves and students and staff as white eagle feathers. Fall 2007
+ + + +

The Gila Indian River Community celebrates the recovery of their
water rights December 11th, each year. In 2006, dripping water from their ancient "man in the maze" symbol into a "river" below was the intent of this ancient design. 150 Indian youth from VHS and Blackwater Schools dressed in blue as "water drops" "falling" to the river below where they were greeted by elders.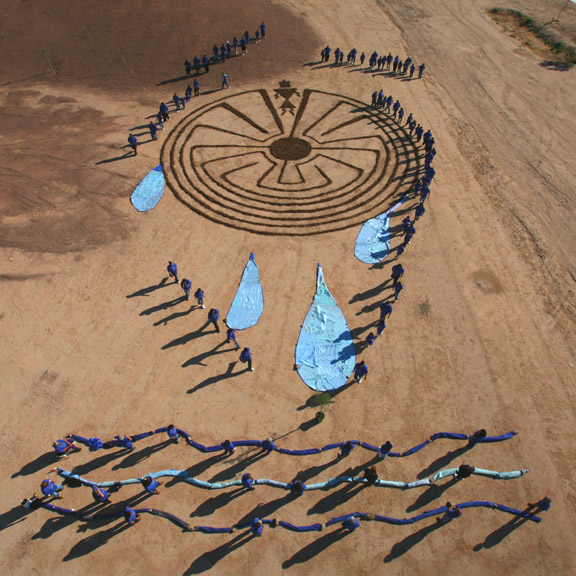 a-MAZE-ing Water - Dec. 11, 2006, Sacaton, Arizona
Each student carried a cup of water from the Gila River which they
offered to their sacred Mesquite tree in a big pot just above "the river".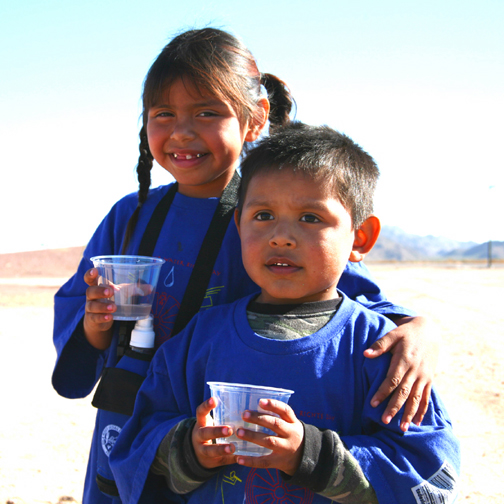 + + + +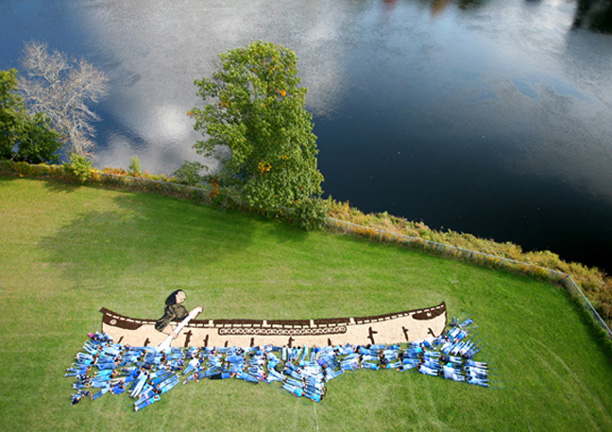 T H E S K Y C A N O E - Students and staff from the Penobscot Nation Indian Island
School in Maine "become" the river supporting a birchbark canoe and paddler made
of wood chips, soil, sawdust and thrift-shop clothing. Fall, 2008
see front page story!
Lynn Gellerson, 3rd Grade Teacher" caton, Arizona
+ + + +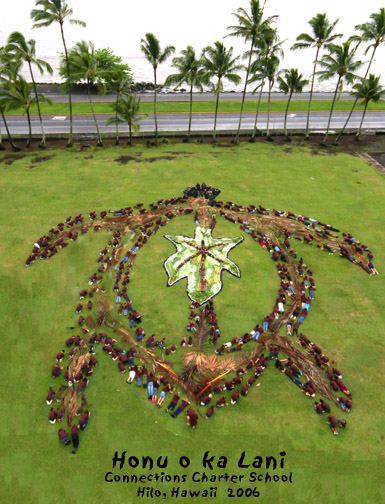 250 youth and teachers team up to form an endangered sea turtle and
celebrate afterwards during the blessing of an Hawaiian downpour
which began immediately afterwards. Children lay down on a giant version
of the sacred Kakui leaf made palm fronts and Kakui leaves.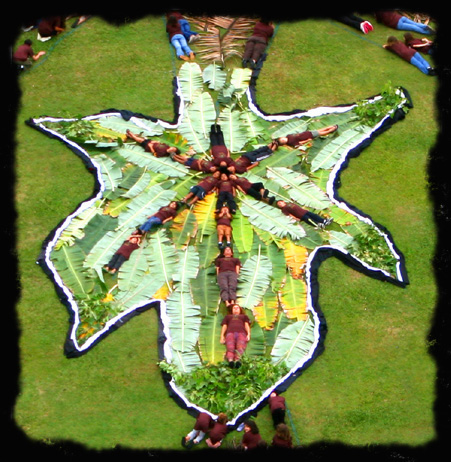 ++++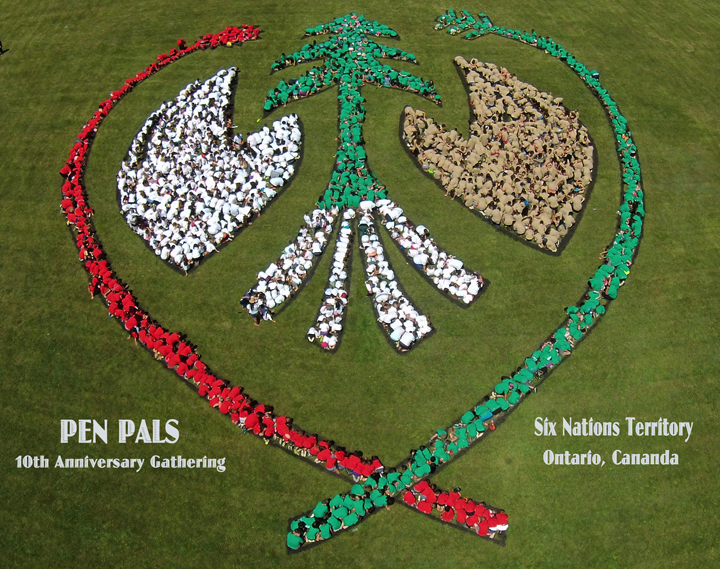 NATIVE SKY GALLERY
PAGE 2