Decide on a subject for your image . . . animal, tree, culturally significant symbol, it's up to you. I am happy to suggest ideas based on your region and important timely issues. If you have a common mascot that I've done many times, please think of something else or perhaps the preshistoric relative of your cougar, eagle, bulldog, etc.. Kid art versions of a topic are very welcome!

Get everyone excited! Get the most out of this is by building up the excitement long in advance. Begin by having students study the website, watch some of the videos, do art and story around the creature they will be creating and go over the Six Teachings with them. A wonderful thing to do in advance is to create a big display about Art For the Sky and put it up somewhere for all to see. Here is what one teacher did! Please DON'T share the exact version of the image we are doing. It's best if it is a surprise!


Decide on location. Usually this is your athletic field, park down the road or if you have the funds to bus students a ways away . . . then a beautiful, wilder location outside of town. Generally an area 100 x 100 ft. is sufficient.


Manifest a crane

, man-lift, or fire truck from which the image will be filmed. Firetrucks seem to be the most common so try them first. We need to be at least

80 feet

above the image (the higher the better!) for a great photograph. CRANES are always a great option and crane owners have proven to be especially inclined to loan their services for this work.

Almost always, this aspect of the project has been donated at NO COST to schools!

A call from the principal works like magic most of the time

Decide about T-shirts and review this link. While it is certainly NOT necessary, some schools go this route as it is a wonderful way to build community and give the story of their Art For the Sky experience a long life. If shirts are chosen, with the design to be done upon them, parents usally buy the shirts for their kids.

Familiarize your self with the sample schedule and make sure you allow time for all events.

Locate a place for me to stay while in your community. Often this is a guest room or guest house of a supportive community member. Often times local hotels are willing to donate a room in support of the project.

Get the materials on the list I will send that are needed for the design details. There is a palette out there for us to pick from including soil, mulch, leaves, thrift shop clothing to borrow, recycled materials, findings from river or beach clean-ups, etc.. One of the "rules" of Art For the Sky is to try not to buy anything! All of these things can be easily found or donated.

If you have a music teacher, and you are an elementary school, please have your students learn the song Wings To Fly (or other Daniel Dancer song which may apply to your design) which contains some of the lessons of Art For the Sky and opens them up to the excitement of the program coming to their school. They will be singing this song in mass during the first and final assembly. Also . . . please find a guitar for me to borrow as I do not travel with one.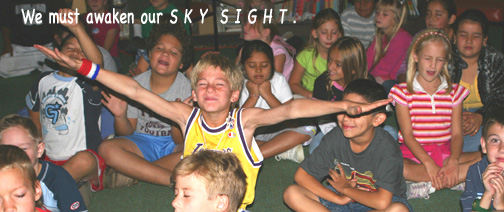 Schedule the assemblies. The initial one is 45 minutes long. The final one is 30 minutes. Both are done for the entire school at once. If it is really big school, I can do two.

Schedule Media System person to be on hand for the first and final assembly. Good sound is really, really important as the images are revealed to a movie with music. The school gets a copy of the DVD/film when it is all over in which they can sell back to parents if they wish and raise funds for the school.

PICK SKY CAPTAINS, we will need 3 - 10 adults (depending on design complexity and number of participants), not responsible for classes, to oversee a particular area of the design on Event day. This has proven to be integral to organization, ease and a beautiful result. I have always found that your lunch workers make GREAT sky captains as they are used to a bit of chaos and the kids know them. Be SURE the Sky Captains see THIS page!

Contact the Media. This is very important if you want your school to get on TV or front page coverage in your newspaper. They generally show up as they love this kind of thing. You have to be persistent and call once a week in advance, then the day before, then the morning of the event.

Designate a few "official photographers" to take digital images of the event on the ground, within the image. These special candid pictures will be your on the ground record of this experience and the best of them will be chosen for inclusion in the DVD/film of the project. GOOD ON THE GROUND PHOTOGRAPHS are essential for a great video! I always download the images on my computer immediately after the event. All photographers should go to THIS PAGE to see the kind of images that really help MAKE really great video. I can only use horizontal images . . . no verticals please.
Make sure the playing field is mown close right before I get there as it makes the materials go further and easier to spread.
5 Gallon Buckets - This is the primary "tool" I use with the students to help spread the mulch we use to outline the design. We need six of them. I work with groups of 8 kids and an adult, for about 40 minutes at a time until we are done. This usually takes a couple of hours. A leaf-rake is good to have on hand as well. Sometimes, a wheelbarrow if we have bulk materials we need to move.

Sound: SUPER IMPORTANT!

Please find a megaphone as I will need to communicate with everyone down below. Better yet, an outdoor sound system with a remote mic. That is the absolute best and schools often find a local outfit willing to donate their time and equipment and event DJ for the kids for a short dance party after the event. Super fun!

The event is for EVERYONE! Try to include ALL your staff, secretaries, janitors, lunch staff . . . the entire school!