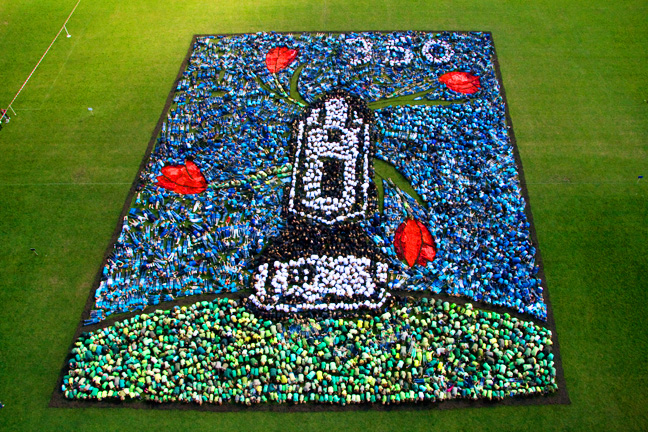 Holland Sky - The biggest Art For the Sky project yet! - 2009
5000 participants from 21 schools in Uden, Holland formed a version of their local windmill with tulips for blades to symbolize a vision for a new era in our relationship wth the sky. See you tube action! Watch Daniel's 5 minute video. 350 is the most important number in the world as it is the safe level of carbon we can have in our atmosphere if we are to survive this era of global climate change.
See 350.org for more information.
+ + + +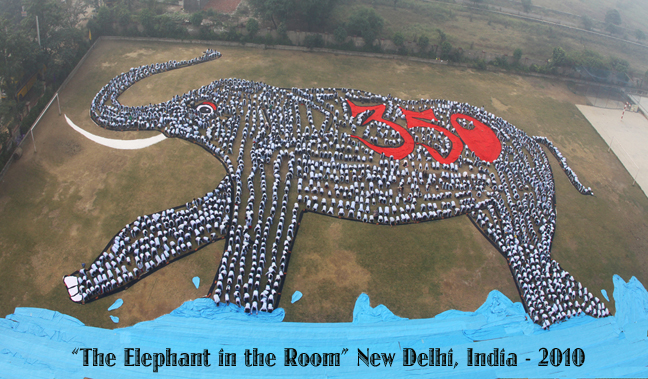 3000 students at Ryan International School in New Delhi, India participate in the first
Global Art Project Visible From Space. 350 refers to the maximum parts per million of carbon
we can tolerate in our atmosphere if we want to survive global warming. Climate change is of
course the "elephant in the room" which our leaders continue to ignore.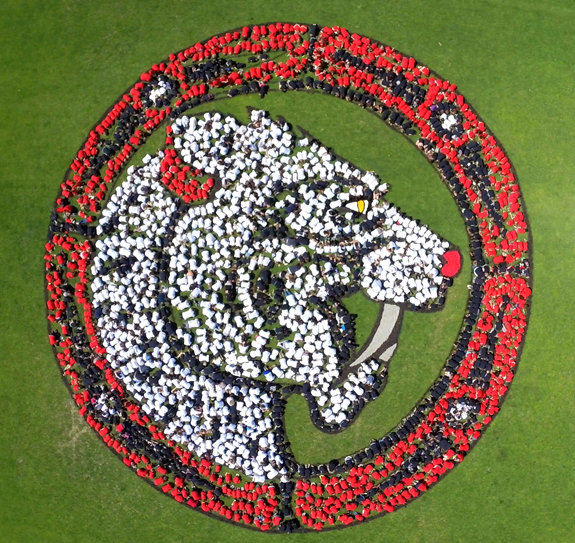 SABERTOOTH - 2500 participants from the Sutherland Family of Schools in
North Vancouver, BC, Canada form this mandala of their district mascot.
+ + + +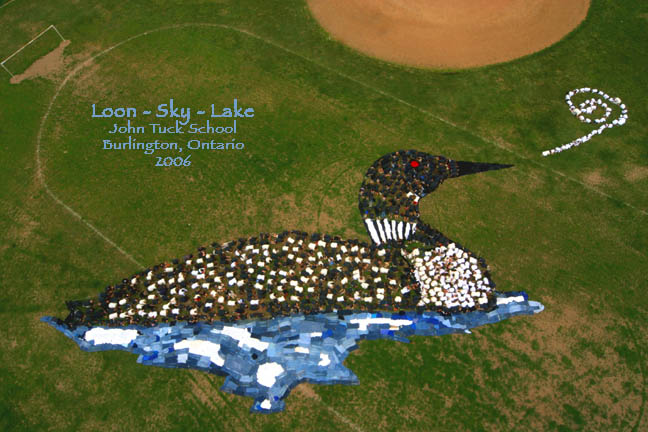 Loon-Lake-Sky - Ontario, Canada, 2008
750 students and teachers form a 160ft loon floating in "Lake Goodwill" made from
900 square feet of blue jeans from local thrift shops.See story by 8th graders.
"I've been at John.T.Tuck School for 17 years and have never seen anything capture the
hearts of the school like this!" - Helen Beare, 5th Grade Teacher
+ + + +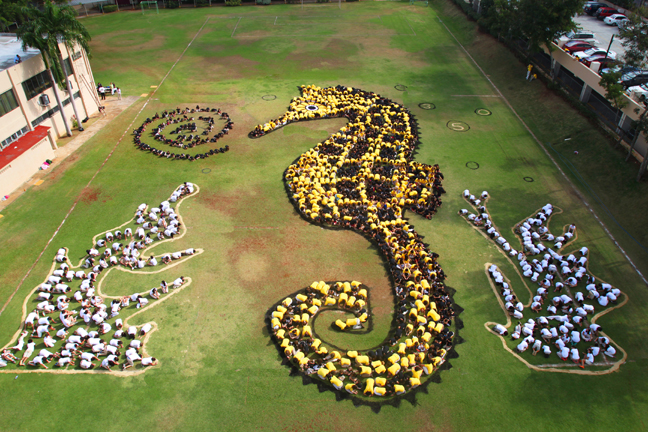 Coral Reef - Dominican Republic 2011
1400 students and teachers from the Carol Morgan Internation School become an
endangered long-snouted seahorse in a coral reef.
+ + + +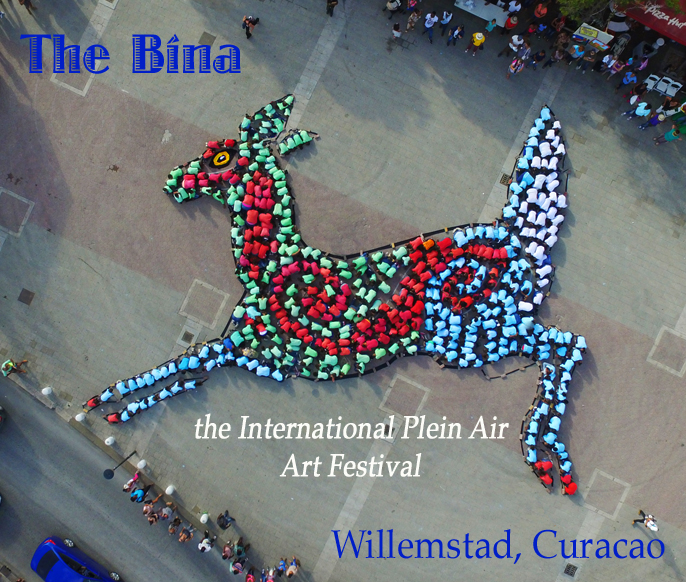 + + + +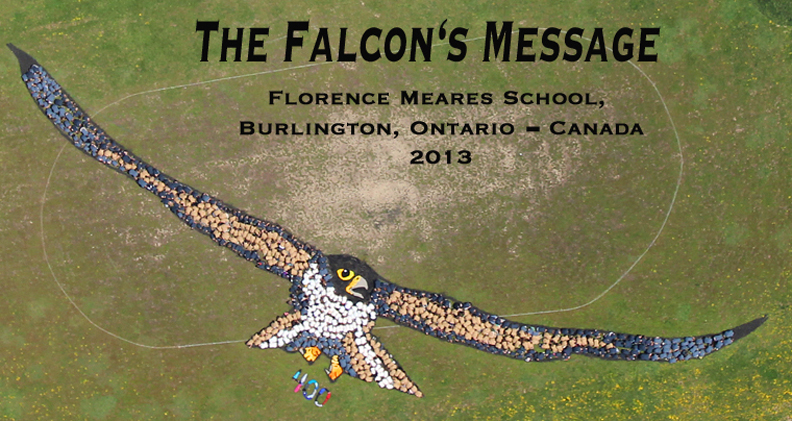 + + + + + + + +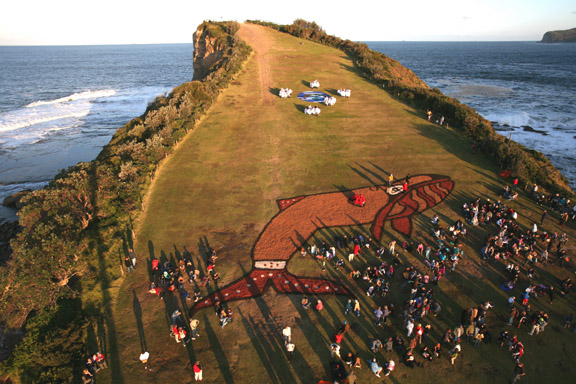 Sky Whale - NSW Australia, 2007
A humpback whale made of bark chips and sand was built for the finale of a remarkable event called the 5 Lands Walk. This annual winter solstice moving festival is a 10K "walkabout" along a coastal path that knits five communities together via art, culture and music in celebration of nature at the height of the humpback whale migration. This is a completely non-commercial event which seeks to honor and reconnect with the Aboriginal culture . . . the oldest in the world. Click the picture to see the film of this event which features dance and movement on the whale.
+ + + +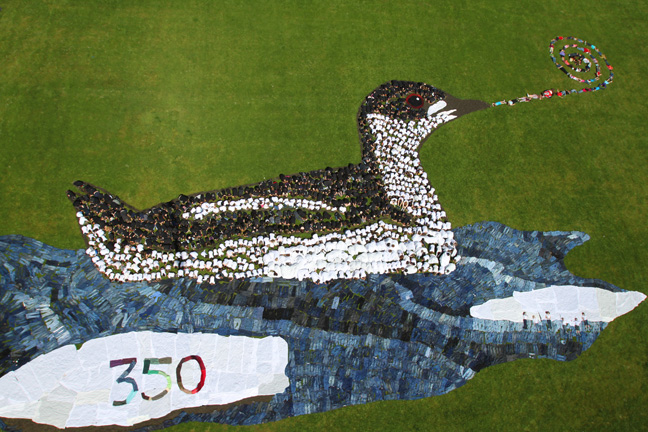 World Oceans Day in Victoria, BC, Canada - 2009
An endangered marbled murrelet made with 1000 students and teachers from six schools
swims in a sea made of 1500 pairs of blue jeans and icebergs made of sheets. The 350
signifies the safe level of parts per million of carbon we can have in our atmosphere.
+ + + +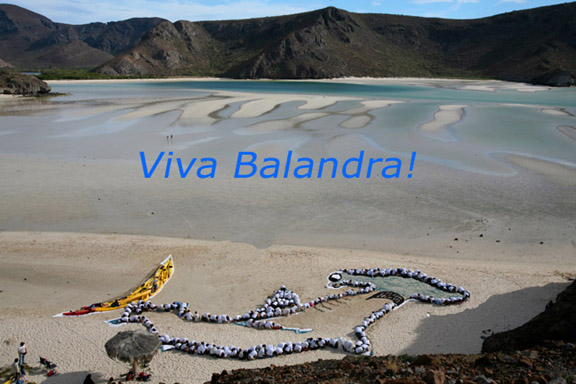 This first Mexican sky art project featured a hammerhead shark on beautiful
Balandra Beach, near La Paz, in Baja California . . . a place that hangs in the
balance between protection and development. Hammerheads are in big danger as well
due to extreme over-harvesting for shark fin soup. February, 2008
+ + + +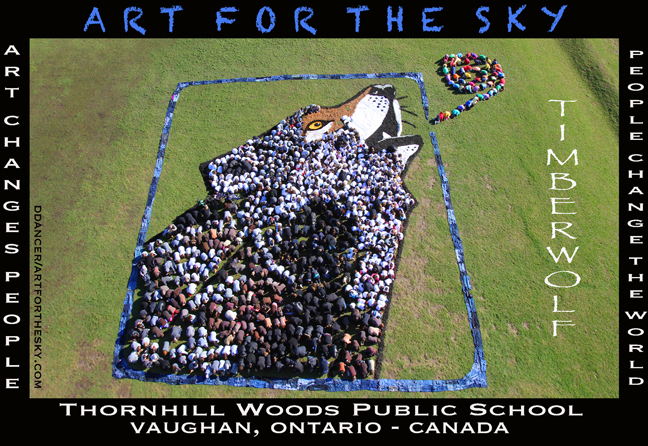 +