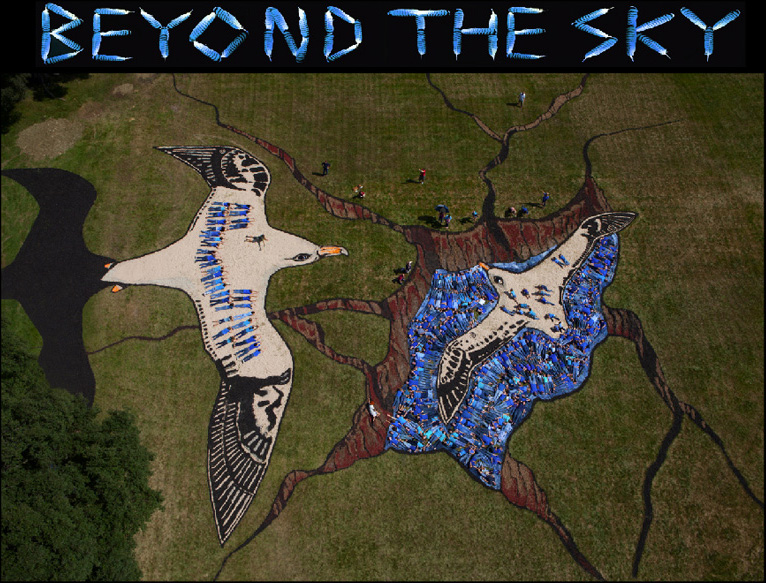 This is a 3D project which depicts two albatrosses, one flying up through a "lake of souls"
ready to be born and the other flying overhead already with it's supply of fresh souls. The
"canyon" is made of shades of mulch. The birds are made of sand and mulch.
Grand Rapids, MI - 2011 Art Prize
+ + + +

Peace Dove with Rose, Portland, OR. 2002
"If we can make a creative crack in the world's deadly abstractions,
the divine will rush up bringing great bounty with it."
-Granny D, in the eye of dove with Daniel Dancer's son Nick, age 4.
+ + + +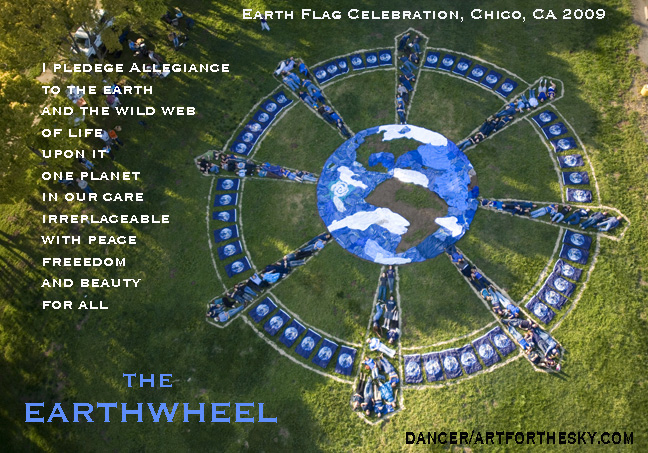 Chico is the Earth Flag capitol of the world. This Earth week event in 2009 was a celebration
of their success which they hope spreads to other cities across the planet.

+ + + +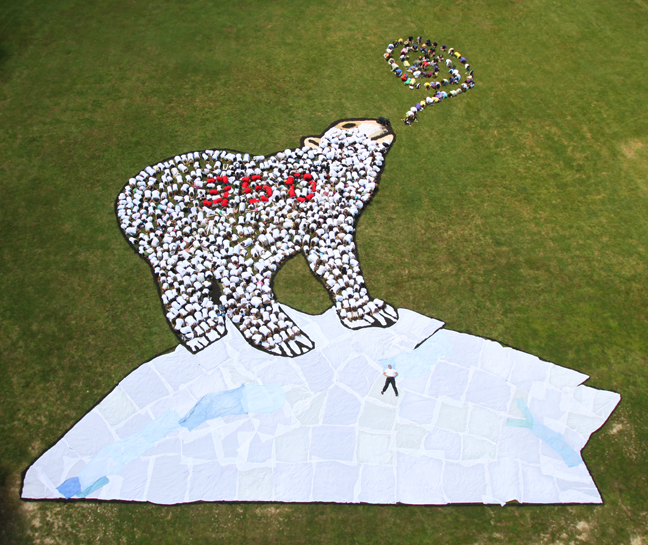 Polar Bear Sky - Culminating Maryland's Green School Youth Summit, 700 participants
form a polar bear standing on an tiny iceberg floating in the ocean . . . an iconic representataion of global warming. Maryland's Governor O'Malley is the loan man on the ice. Imagine what would happen if all politicians shared the plight of the polar bear! Big change would happen tomorrow! The 350 in red is the number climate scientists say is the maximum parts per million of greenhouse gasses we can have in our atmosphere if we are going to survive global warming.
It is now 390 and going up.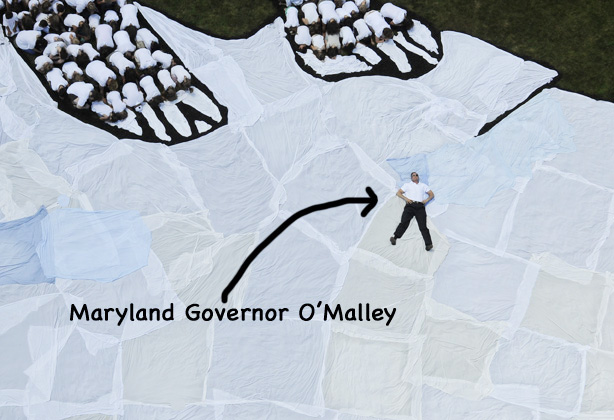 + + + +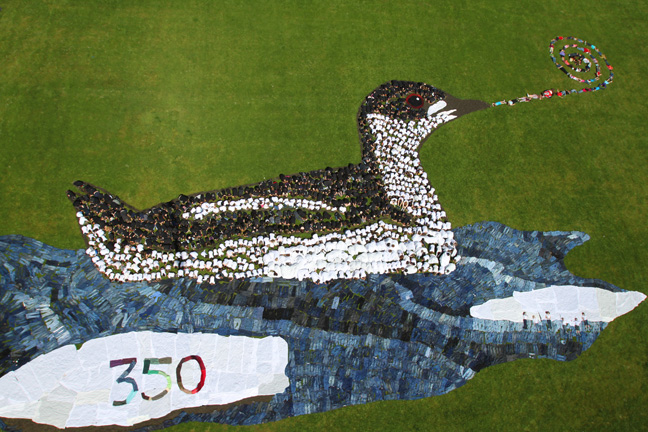 World Oceans Day in Victoria, BC
An endangered marbled murrelet made with 1000 students and teachers from six schools
swims in a sea made of 1500 pairs of blue jeans and icebergs made of sheets. The 350
signifies the maximum parts per million of carbon we can have in our atmosphere to
survive global warming.
+ + + +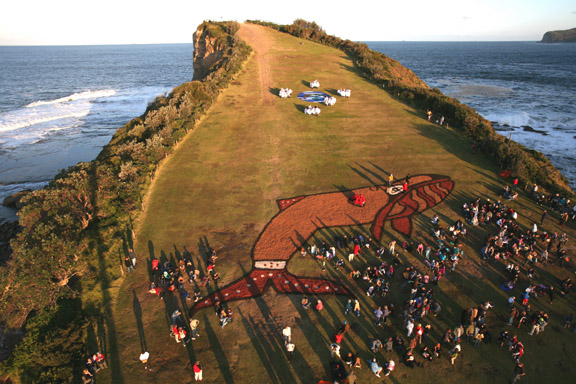 Sky Whale, NSW Australia, 2007
A humpback whale made of bark chips and sand was built for the finale of a remarkable event called the 5 Lands Walk. This annual winter solstice moving festival is a 10K "walkabout" along a coastal path that knits five communities together via art, culture and music in celebration of nature at the height of the humpback whale migration. This is a completely non-commercial event which seeks to honor and reconnect with the Aboriginal culture . . . the oldest in the world. Click the picture to see the film of this event which features dance and movement on the whale.
+ + + +

RAVEN'S MESSAGE
Butte College, California sustainability students depict a raven flying over Earth as the polar ice caps are melting. Raven has a message: Achieve a celing 350 parts per million of carbon in our atmosphere orrisk global climate catastrophe. Fall, 2009. See the 90 second film.
+ + + +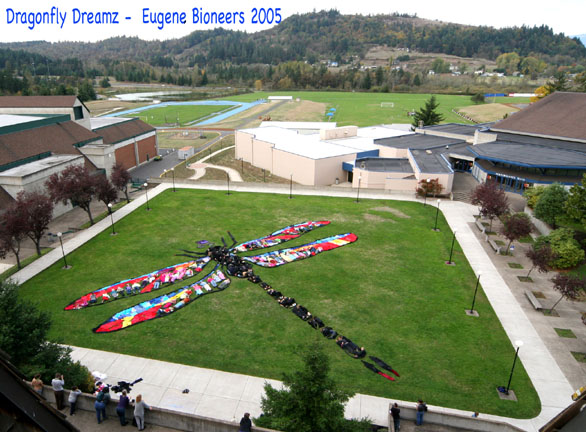 "I just saw the photo and read the article about the dragonfly art in Eugene and was blown away by your ability to infuse art with lesson -- impermanence, teamwork, and perspective.  I hope that your art makes it way into the eyes and hearts of everyone on earth who needs these messages. Your amazing approach should be in every school!"
Respectfully, Leigh Anne Jasheway-Bryant
READ FRONT PAGE STORY
+ + + +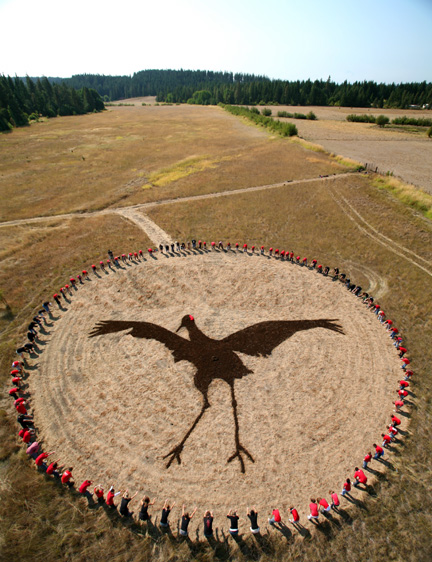 Dancing Crane. Hinkle Middle School 5th graders bow down before the image
of a sandhill crane created out of muclh, in a ceremony to welcome these great
birds to the the soon to be restored Snowden Wetlands near White Salmon, WA.
A collaboration with Columbia Gorge Ecology Institute, Fall, 2008 . Fall, 2008
+ + + +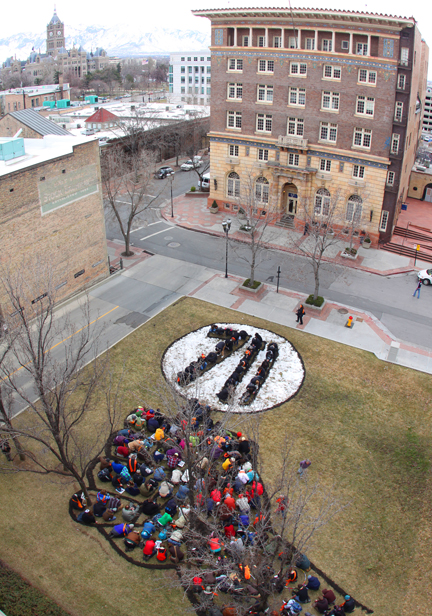 Power to the Peaceful
On February 28th, 2011 in Salt Lake City, Utah, hundreds of activists took to the streets to sing, march and do sky art in a display of solidarity with Tim DeChristopher, aka "bidder 70", whose trial for civil disobedience in defense of Utah wilderness and climate justice began that day.
+ + + +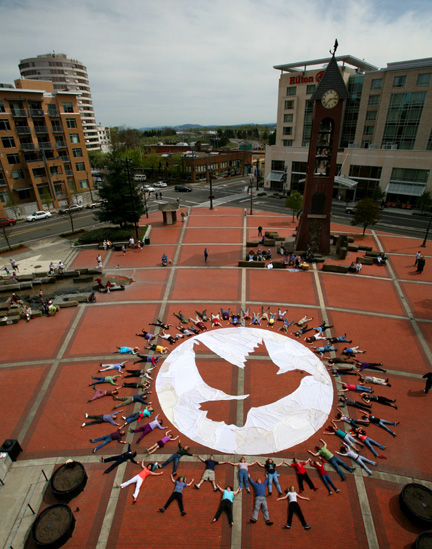 Raising the Dove peace mandala during Alliance for Peace Conference
in Vancouver, WA. 2008 see 90 sec. movie!
+ + + +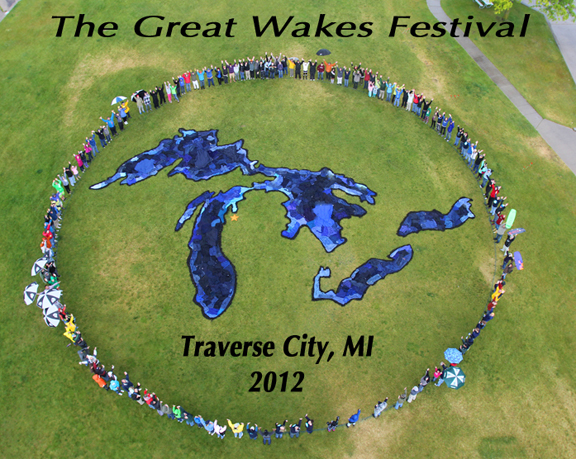 + + + +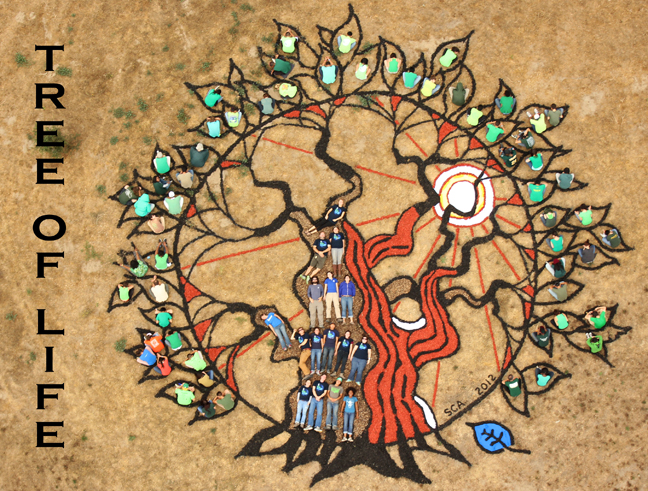 Student Conservation Alliance Project in Oakland, CA - 2012