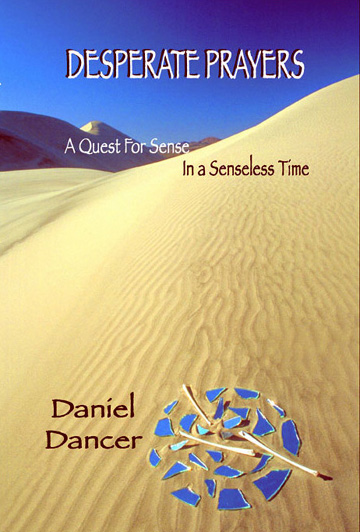 From the beluga whale birthing grounds of the Arctic Circle to the Kansas Tallgrass Prairie, conceptual artist Daniel Dancer spins enchanting true-life adventure tales as he creates healing art in ten endangered ecosystems. As his stories unfold, Dancer reflects on spirituality, indigenous knowledge, quantum physics, psychology, and ecological principles. Humor, synchronicity, delight, and heartfelt struggle are all present in these tales. The result is a breath of wholeness, a gift for our apocalyptic times and for a culture that has forgotten its connection to nature.
The sacred, magical role that art has held in everyday life since the dawn of humanity is often lost in modern society. Dancer's timely work is a quest to revive this form of art, weaving the shards of our failing culture and fragmented ecosystems into a celebration of possibility. Entertaining, full of surprise at every turn, and beautifully illustrated, Depserate Prayers helps map the way home to our authentic selves.
*Previously published as Shards and Circles:
Artistic Adventures in Spirit and Ecology.

READ REVIEWS
Endorsements

This is crucial work!
-Bill McKibben, author of The End of Nature
With spellbinding magic, Desperate Prayers is an eloquent call to right relationship with Earth and ourselves. I love this book!
-Clase Nobel, Senior member of the Nobel Peace Prize Family
Daniel Dancer weaves artistry, vision and spirit into the landscape. His art is homage to the land; his projects are pilgrimage, a quest to create beauty in desecration.
-Laura Sewall, Ph.D., professor of psychology, Prescott College, Author of Sight and Sensibility: The Ecopsychology of Perception.
Daniel Dancer's fine work shows the truth in Berthold Brecht's statement, "Art is not a mirror held up to reality, but a hammer by which to shape it." Dancer wields his hammer with beauty and wisdom.
-Derrick Jensen, author of A Language Older Than Words.

Table of Contents
Foreword by Jim Nollman
Preface
Introduction
Chapter 1: A Wheel for Toxic Man
Chapter 2: The Beluga Peacemakers
Chapter 3: The Golden Prairie
Chapter 4: A Desert Quartet
Chapter 5: The Solace of Ancients
Chapter 6: The River Hoop
Chapter 7: Indecent Exposure and the Search for Picture Perfect
Chapter 8: The Spiritual Geography of Zero
Chapter 9: The Tree of Life
Chapter 10: From Earth to Sky: Art For the Great Mystery
Chapter 10: Skyland
Epilogue
End Notes
Acknowledgments
Published by Trafford Press. 280 pages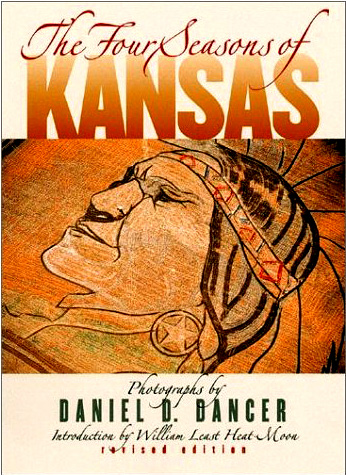 The Four Seasons of Kansas
Revised Edition
Daniel D. Dancer
Introduction by William Least Heat-Moon
October 2001
128 pages, 105 color photographs, 8-1/2 x 11-5/8
Cloth ISBN 978-0-7006-1152-2, $24.95
(From the back cover)
If photography is the art of writing with light, then photographer Daniel Dancer has written the story of Kansas. In this beautiful volume, he has assembled a portrait of the state in its many different lights--a sunflower field at dawn, a rural Main Street in the eerie, greenish light of a summer storm, a nighttime prairie fire, and a dusty stretch of prairie in the hot light of midday.
In 105 full-color photographs Dancer moves through the four seasons, capturing first the vast, spare grandeur of prairie and sky, then focusing closer, to illuminate the more intimate pieces of the Kansas landscape--the icy fur of a buffalo in winter, a solitary gravestone nearly overgrown by prairie grass. He pursues what he calls "wild space"--uncluttered landscapes that embody a quiet beauty that eludes the hurried and undiscriminating eye. Season by season, he uncovers the uncomplicated, subtle beauty of the state.
This revised edition features a new preface, four new seasonal essays, and twelve new photographs replacing those found in the original 1988 edition.
"Much of my adventures in Kansas has been spent in pursuit of what I call 'wild space'--uncluttered landscapes that embody a quiet beauty that eludes the hurried and undiscriminating eye. Kansas abounds in such beauty, and the photographs I've chosen for this book are intended to celebrate its abundance and variety."--Daniel D. Dancer, from the Preface
"So what is the truth of Kansas? This is what: Kansas is a complexity of moving points, a land of tilts and shifts, a region full of lives and ideas going this way and that and not infrequently colliding. It is the heartland of America, indeed, but not simply in the way popularly understood; it also beats at our center because, like the whole nation, it moves in turbulence, in fitfulness, and, somehow between times, in beauty."--William Least Heat-Moon, from the Introduction
DANIEL D. DANCER is an environmental artist and photographer whose photographs have been published worldwide and exhibited in galleries across the country.
WILLIAM LEAST HEAT-MOON is the author of Blue Highways, Prairyerth, and River-Horse: A Voyage Across America.
Both Books can be ordered on Amazon.com