A DVD of the project video is my giveaway to every school! It is yours to freely reproduce and sell to parents. Most schools make a good portion of the residency fee back with suggested sales to parents of the DVD for $10.
It is important to the mission of Art For the Sky that each student get a tangible momento of the project. 4 x 6 Skycards, like the ones pictured below are available for .55 cents each (cheaper if 1000 or more). If schools purchase these (nearly all do and give them out to their students for free) then in addition, they get the official high resolution digital image to do what ever they want with: make a giant print for the school, sell prints, use in yearbook, etc.. Skycards can be available within a few days of project completion to pass out to students.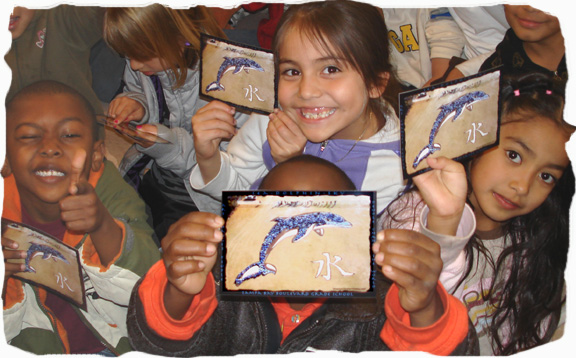 Sky Cards like those pictured above and below are bordered with the name of the project, school and date. Everyone treasures them!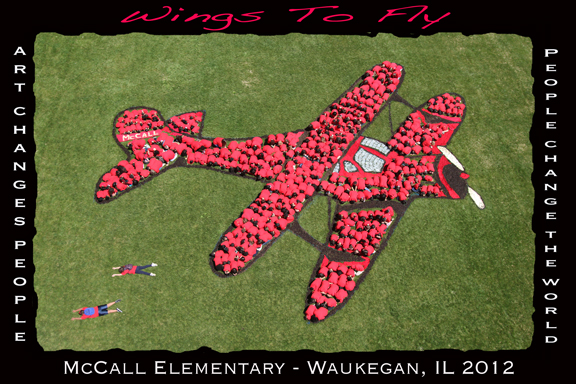 Eco-friendly T-shirts with the finished image upon them are also a wonderful memento and can be a good way to raise additional funds. If you decide to do this, PLEASE DO NOT print your beautiful image in a manner out of integrity with what the program was about. PLEASE do it in an eco-friendly manner and stay true to everything that Art For the Sky is about. Here is a great company to work with whose motto is: "change the world one t-shirt at a time". I've worked with TSDesigns for years and an Art For the Sky image printed on a white t-shirt looks wonderful and does not have the plasticky feel of the printed images on t-shirts you are likely used to. They are dyed into the fabric and you cannot feel them!