Early Projects
The Native American
450 children from Oskaloosa elementary school in Kansas form individual
beads on the Indian's headband in this 20 acre field art work by Stan Herd in 1988.
This was the very first Art For the Sky event with children forming part of the image.
+ + + +

T H E P H A N T O M F O R E S T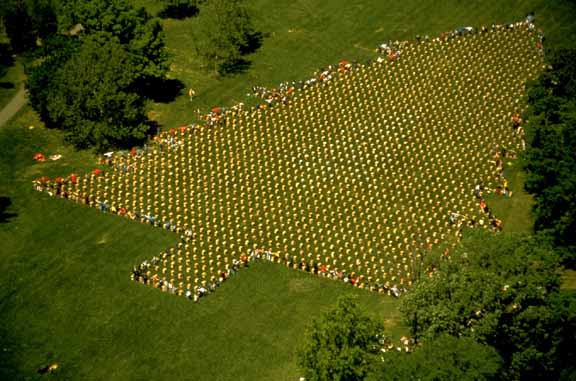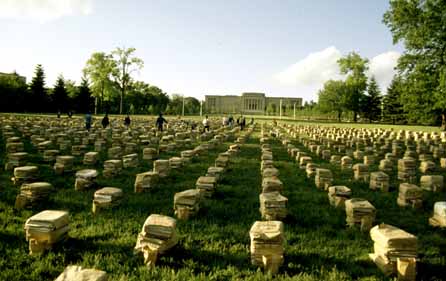 To celebrate Earth Day in 1990 and call attention to the plight of our forests,
the All Species Coalition asked Kansas City children to bring 1800 stacks of newspaper to the city's biggest park. The number 1800 was chosen because that's how many trees it takes to produce the Sunday edition of the Kansas City Star

+ + + +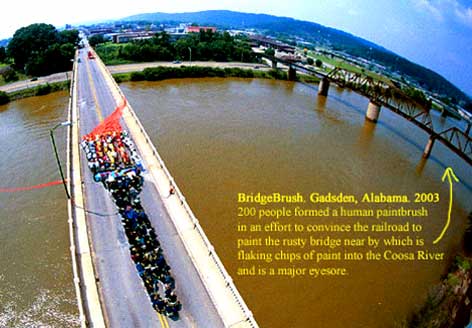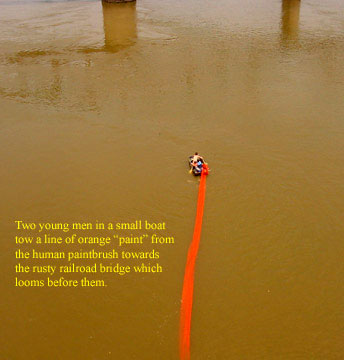 + + + + =
+ + + ++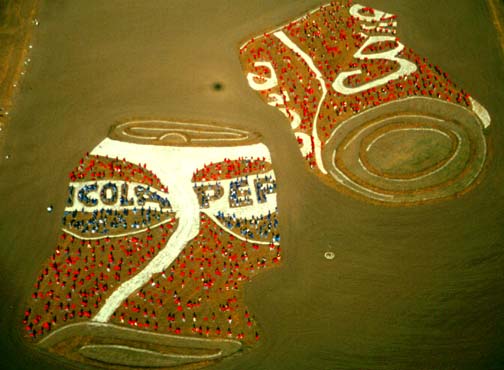 Cola Wars!
Stan Herd's 10 acre field art work of a crushed Coke and Pepsi can was an
"anti-commercial"and message about recycling set in field near Ottawa, Kansas.
Several hundred people showed up in red and blue to form the image.
+ + + +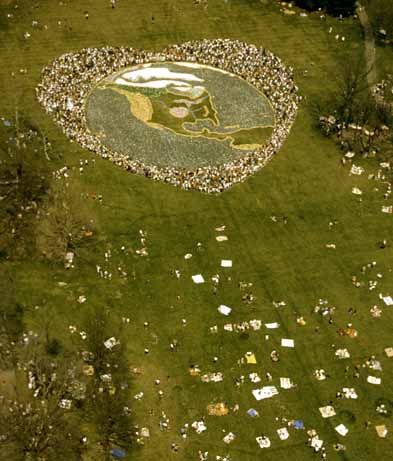 Earth Day, 1991. Kansas City, MO.
Hundreds of people on Earth Day in 1991 used recycled materials to form
our Planet in the park. Then they embraced it with a giant heart.
+ + + +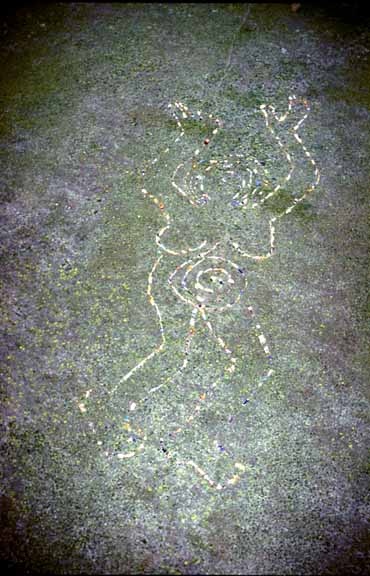 Earth Goddess I
On the Columbia Hills in Washington in 1998, several hundred people
came out to create a special image with their bodies, blankets, jackets,
children and dogs. Designed by Laura Merriil and photographed by Daniel Dancer.
Two weeks later the Nature Conservancy permanently protected 3500 acres of this land.

S C H O O L S

The School Sky Gallery has gotten pretty full so some
projects now live here in the archives.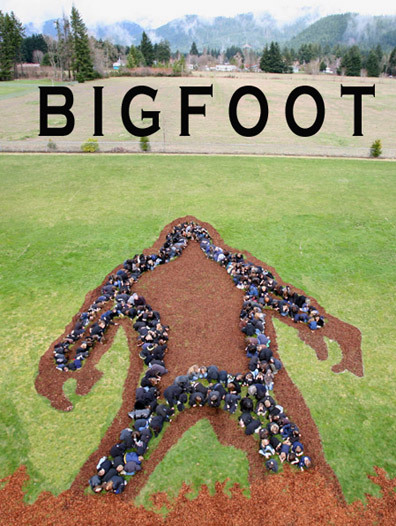 300 students and staff at Carson Elementary iin Carson, WA
bring bigfoot to life! 2008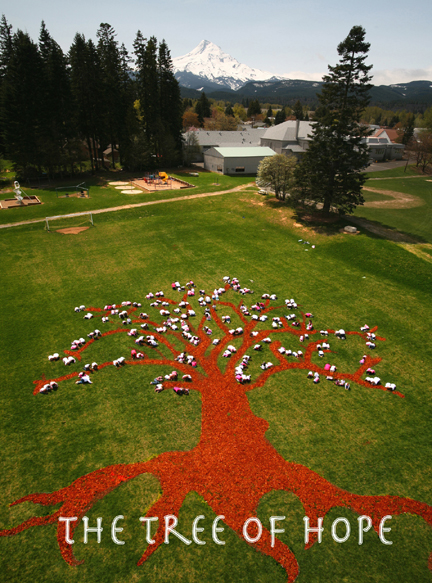 Parkdale Elementary students and teachersbecome blossoms on a blooming
apple tree and then blow of into the wind. Summer, 2008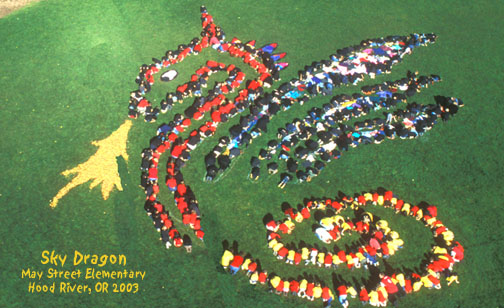 500 kids formed a fire breathing dragon. On cue . . . the yellow tail
students ran through the neck and out the mouth breathing fire!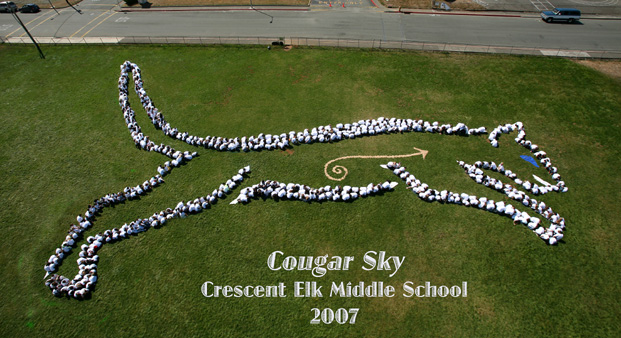 600 students and staff form a running cougar in Crescent City, CA. 2007
+ + + +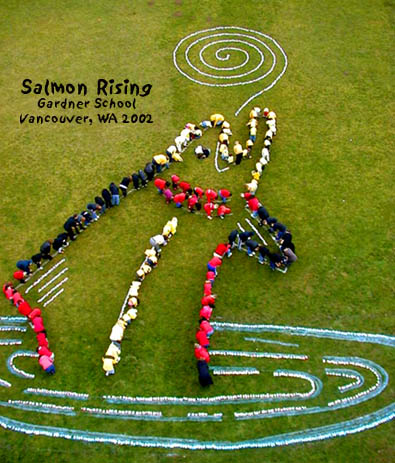 + + + +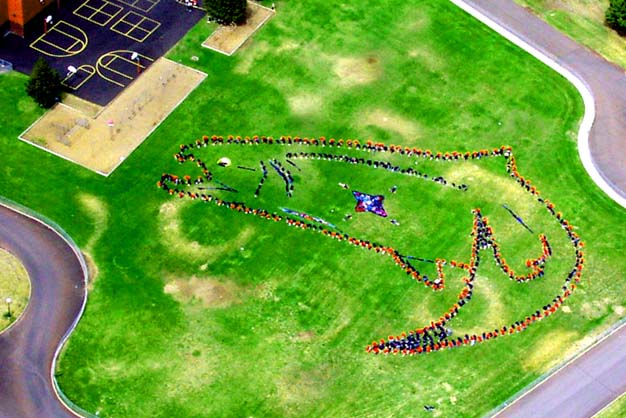 The Bend Sky Salmon, 600 kids, Jewell Elementary, June, 2002

+ + + +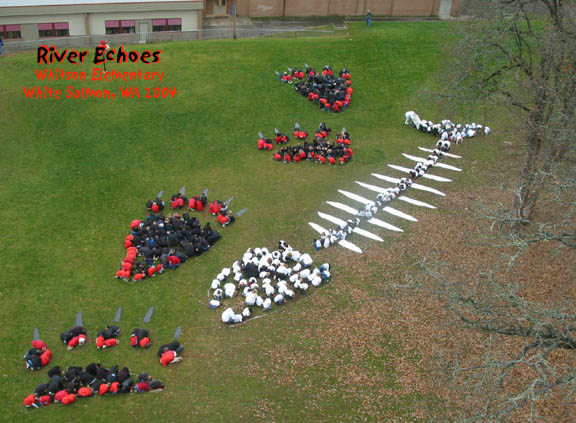 Bear Tracks and Salmon Skeleton
+ + + +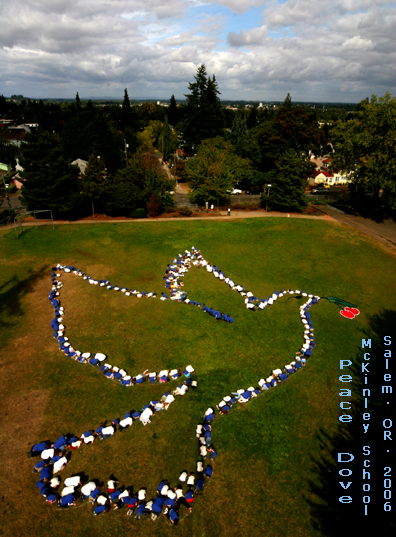 The clouds parted just in time for the sun to shine on 400 students,
teachers and parents in the shape of a dove bearing cherries during
McKinley School's celebration of International Peace Week.
+ + + +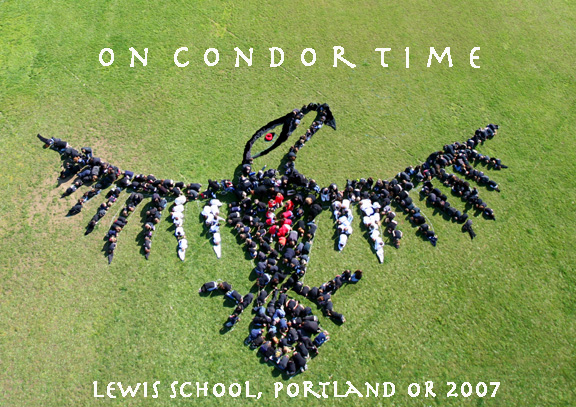 3350 students and teachers form a rock art version of a California Condor. On the same day, the Oregonian newspaper reported the hatching
of two baby condors.
+ + + +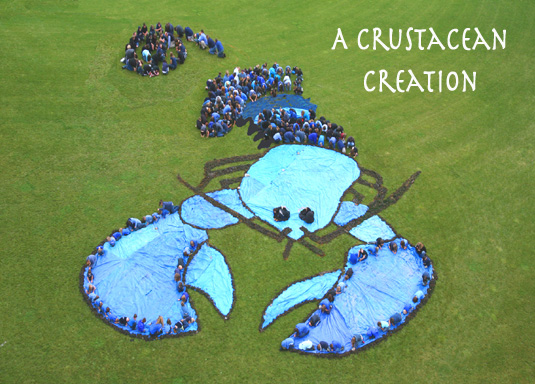 Students and staff at Vinalhaven School in Maine used tarps, seaweed and
their bodies to form a rare blue lobster. Fall, 2008
+ + + +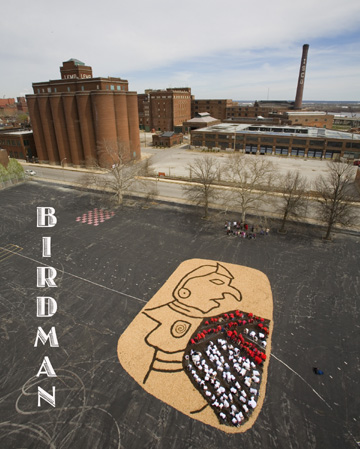 Shepard School in St. Louis depicts the wing of the most famous artifact
found at nearby Cahokia. Cahokia, home to the mound-builders, was once the
largest city in the New World and today is the most extensive archeological site in America. 2009
+ + + +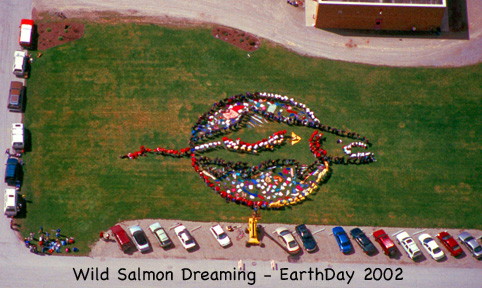 Earth day, 2002
In Chewelah, WA, a few hundred community members formed this salmon
image using their bodies and clothes to be recycled. A snake runs through
the middle of the salmon bringing "new salmon life" into a region
where salmon are currently extinct.